Event report: Feature Friday with DTU Fotonik Spin-outs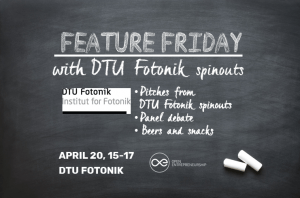 Last Friday, we invited DTU Fotonik spin-outs to come back to the university and share their experiences and their next steps to researchers, students, entrepreneurs, collaborators and peers with an interest in innovation and entrepreneurship.
Jes Broeng, who heads Open Entrepreneurship, and is Head of Innovation at DTU Fotonik and Professor in Entrepreneurship, welcomed the 50 participants. Jes talked about the importance of research, and how the research done at the universities can have even greater impact out in the society through spin-outs.
The six spin-out companies: Bifrost Communications, FaunaPhotonics, Norlase, NLIR, OCTLIGHT and SHUTE delivered some sharp and crisp 3 minute pitches each. The pitches demonstrated how versatile and diverse the research area of photonics is. The companies' products applies in very different areas, despite having the same birthplace, DTU Fotonik.
A panel debate moderated by Julie Rømer, business developer at Open Entrepreneurship, followed the pitches. All panelists agreed on that they had started companies to help people and see their research being applied out in the real world. Here are some of the highlights from the session: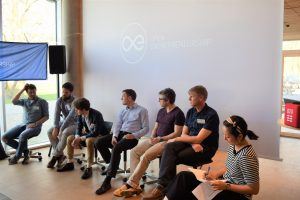 Describe the hardest part of being an entrepreneur?
Frederik Taarnhøj, Co-founder and CEO at FaunaPhotonics: "Fundraising, it is really hard on the team, and it is important to do social things as a team to lighten this part."
Kristian Nielsen, Co-founder and CTO at SHUTE: "Bridging the gap between university and the market. Are you going the wrong way? If you talk to people and get feedback, it is easier to get funding."
Thor E. Ansbæk, Co-founder and CEO at OCTLIGHT: "To get out there."
Peter Tøttrup, Co-founder and CEO at NLIR: "To grow up that is the hardest part as a start-up."
Jesper Bevensee Jensen, Co-founder and CTO at Bifrost Communications: "Work-life balance. It is really hard on your family. Remember to acknowledge them, thank them and include them on the journey."
Peter Skovgaard, Co-founder and CEO: "Going from being an expert to somebody who doesn't know it all. From an expert to a generalist."
Describe the best part of being an entrepreneur?
Peter Skovgaard: "Build things."
Jesper Bevensee Jensen: "Fun things happen all the time, a good indicator is if both your friends and your wife tells you that you look happy, then it's probably true."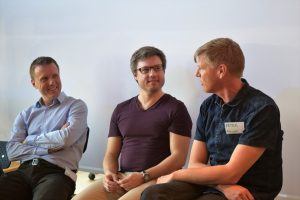 Peter Tøttrup: "The answer lies probably in our psychological profile, but it is much more fun to be self-controlled at our own companies."
Thor E. Ansbæk: "You have a lot of fun while being an entrepreneur."
Kristian Nielsen: "You grow as a person. I remember the first pitch -it was terrible! But then it comes slowly, and it makes you a better person."
Frederik Taarnhøj: "You define your own tasks."
What is your advice to fellow researchers who are considering spinning out?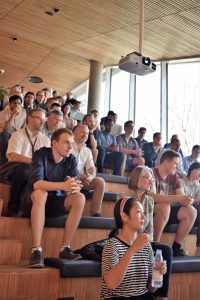 Peter Skovgaard: "If you do it, take care of yourself. The waves are big, mountains high and the vallies are deep. I follow my gut and I meditate and free dive to handle all the uncertainty that comes with the job."
Jesper Bevensee Jensen: "Don't be Gollum –get help."
Peter Tøttrup: "Team up, compare yourself with the competitors, and look for your own unfair advantages".
Thor E. Ansbæk: "Talk to people, they will help you on your way."
Kristian Nielsen: "Pivot, kill your darlings, embrace the fact that you'll do something else than what you set out to do."
Frederik Taarnhøj: "It is important to be in love with the team and the technology."  
During the panel debate, Thor E. Ansbæk also elaborated on how the conditions could be even better at the universities: "There could be a better general acknowledgement of spin-outs from the universities, and it should also be allowed to form the company at the university, and access to public funding could be better too. Overall I think, the conditions are really great, and I can only recommend to start a company at the university. You have a strong competitive advantage to start with the technology."
Peter Skovgaard followed up on the last part: "We have the best hammer, I'm now looking for nails. There is a gap between the world records, we're trying to beat at the universities, and the real life problems in society. That's why there's a real synergy between entrepreneurship and research." This quote from Peter matches the mission of Open Entrepreneurship, where we want to turn world-class research into world-class spin-outs by matching researchers and experienced entrepreneurs.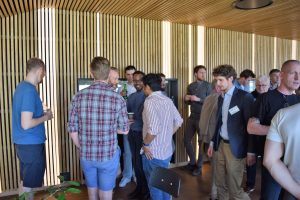 After a much longer panel debate and Q&A session than planned, the entrepreneurs mingled with the participants over beers, sodas and snacks.
One of the participants, Morten Møller a DTU Fotonik Graduate, was very excited to have listened to the stories and experiences of the six entrepreneurs, and stated the following:
"Feature Friday gave a great insight in the lives of entrepreneurs, which sometimes can seem very mysterious and closed to the surrounding world. But at the event, the entrepreneurs shared happily their failures and experiences. One advice stood clear, ask for help for the stuff you cannot do yourself. The atmosphere was warm and welcoming, and it was fun and everybody was very approachable and helpful."
Morten encouraged researchers, students and other aspiring entrepreneurs to take part in future events by Open Entrepreneurship. To stay updated on future happenings, sign up for the monthly newsletter here Check our website or follow Open Entrepreneurship on LinkedIN, Twitter, Facebook and Instagram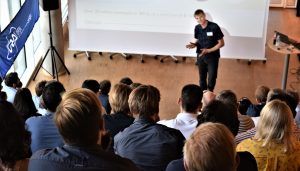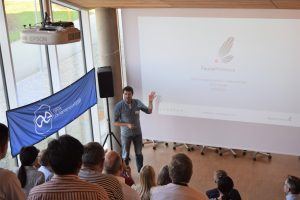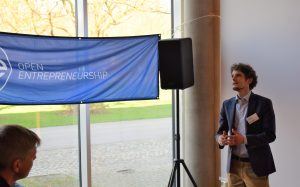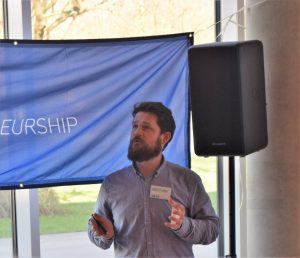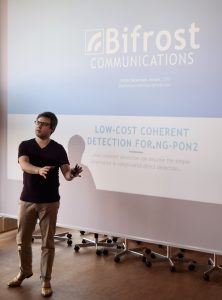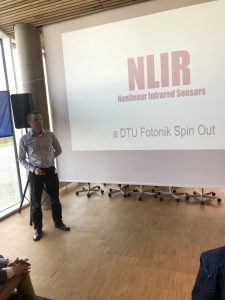 By: Julie Rømer, Open Entrepreneurship
---