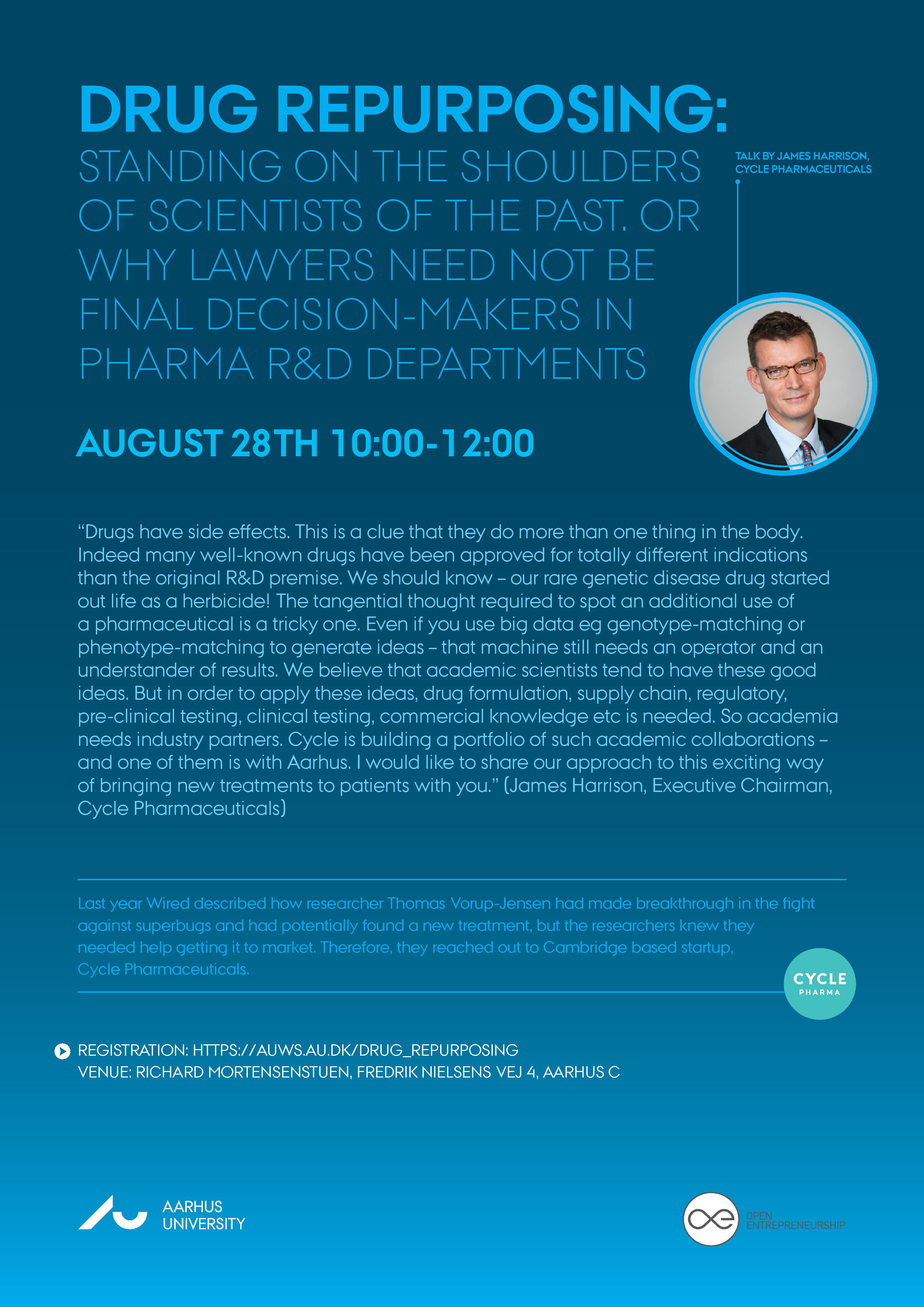 Talk at AU: Drug Repurposing
Drug Repurposing:
Standing on the shoulders of scientists of the past or why lawyers need not be final decision-makers in pharma R&D departments
August 28th 10:00-12:00
"Drugs have side effects. This is a clue that they do more than one thing in the body. Indeed many well-known drugs have been approved for totally different indications than the original R&D premise. We should know – our rare genetic disease drug started out life as a herbicide! The tangential thought required to spot an additional use of a pharmaceutical is a tricky one. Even if you use big data eg genotype-matching or phenotype-matching to generate ideas – that machine still needs an operator and an understander of results. We believe that academic scientists tend to have these good ideas. But in order to apply these ideas, drug formulation, supply chain, regulatory, pre-clinical testing, clinical testing, commercial knowledge etc is needed. So academia needs industry partners. Cycle is building a portfolio of such academic collaborations – and one of them is with Aarhus. I would like to share our approach to this exciting way of bringing new treatments to patients with you." (James Harrison, Executive Chairman, Cycle Pharmaceuticals)
Last year Wired described how researcher Thomas Vorup-Jensen had made breakthrough in the fight against superbugs and had potentially found a new treatment, but the researchers knew they needed help getting it to market. Therefore, they reached out to Cambridge based startup, Cycle Pharmaceuticals.
Registration https://auws.au.dk/Drug_Repurposing
Venue: Richard Mortensenstuen, Fredrik Nielsens Vej 4, Aarhus
---