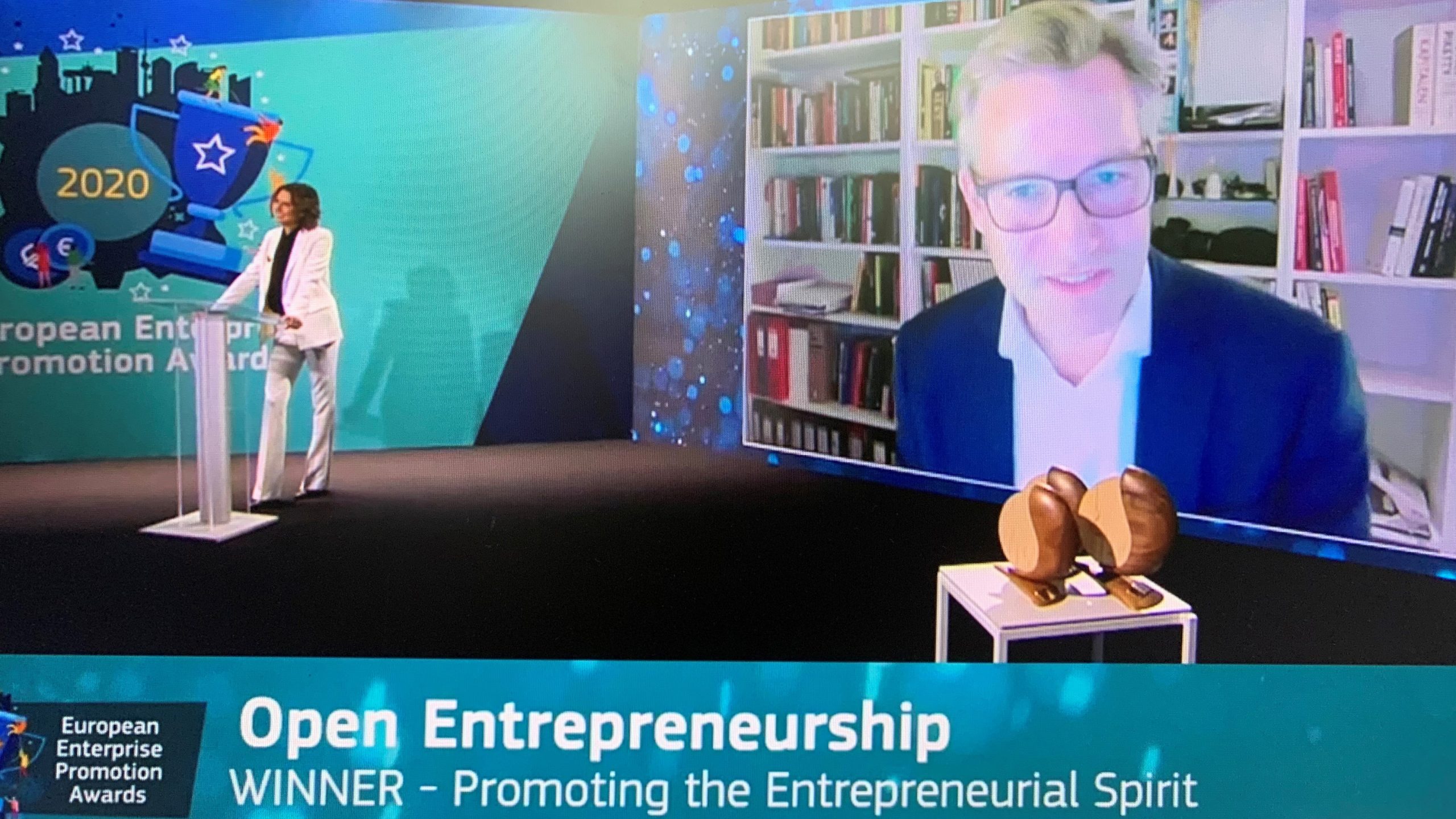 First prize at the European Enterprise Promotion Awards 2020
16 November 2020. By David Erichsen
Today, Open entrepreneurship won the first prize in the category "Promoting the Entrepreneurial Spirit" at the European Enterprise Promotion Awards 2020.
At the European Enterprise Promotion Awards ceremony, today, the winners of the various categories were announced. Open entrepreneurship was nominated and won in the category "Promoting the Entrepreneurial Spirit".
At the online ceremony, Director and Professor of DTU Entrepreneruship and Programme Manager of Open Entrepreneurship Jes Broeng said:
"Thank you very much to the jury, it is a great honour to receive this award. I am very proud on behalf of the whole team that includes seven university partners in Denmark.

In the Open Entrepreneurship programme, we are working together to help successful entrepreneurs from Denmark and across the globe to come and have a conversation with our researchers – and together we see that this conversation leads to the co-creation and development of some amazing spinouts. We see that this is a great combination as it allows the researchers to focus on what they are good at, namely their research – and at the same time they get resources and the experience from the external entrepreneurs and their network – we see that they inspire each other in both domains.

Also, please let me thank our sponsor the Danish Industry Foundation for supporting us to launch this programme. I would also like to thank the Danish Chamber of Commerce for nominating us to this prestigious award!

Thank you very much!".
The objectives of the awards:
• Identify and recognise successful activities and initiatives undertaken to promote enterprise and entrepreneurship
• Showcase and share examples of best entrepreneurship policies and practices
• Create a greater awareness of the role entrepreneurs play in society
• Encourage and inspire potential entrepreneurs.
The award categories:
Promoting the entrepreneurial spirit
Investing in entrepreneurial skills
Improving the business environment
Supporting the internationalisation of business
Supporting the development of green markets and resource efficiency
Responsible and inclusive entrepreneurship
Explore Open Entrepreneurship in video
---